Dear Lord, If roses grow in heaven then pick a bunch for us Lord. Put them in Christina's arms and tell her they are from us. written by wonderful Aunt Bonnie Love ya.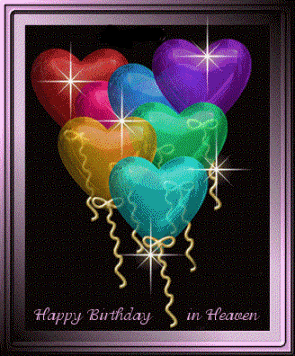 We love you Christina and you will always be missed.
Today was your birthday it would have made your 22nd birthday here on earth, but god decided you suffered to much, he took you back home on March 18, 2007; To honor your life we had an balloon release in your memory. I love you so much and I remember when i had you 22 years ago and were the most beautiful baby and perfect in everyway, as growing up we had our times both good and bad, honey i would take the bad, to have you here with me. Birthdays are suppose to be an time of celebration but today was only filled with sorrow. There is not one minute that goes by that i dont wish i could have you back. Love and hugs Mom
Everyone wishing you an Happy Birthday and 1st heaven birthday today, and the balloon raise high so catch one or two we all send our love to you. Your Baby Bella Mom, Dad, Megan, Zachary and Kaitlyn. Aunt Lisa, Travis, Ryan and Brandon Dawn, Sara, Mary, Dewey and little Skylar. WE ALL MISS AND LOVE YOU
He Only Took My Hand Last night while I was trying to sleep, my daughter's voice I did hear, I opened my eyes and looked around, but she did not appear. He said, "Mom, you've got to listen, you've got to understand, God didn't take me from you, mom, He only took my hand. When I called out in pain that day, the moment that I died, He reached down and took my hand, and pulled me to His side. He pulled me up and saved me From the misery and pain. My body was hurt so badly, I could never be the same. My search is really over now, I've found happiness within, All the answers to my empty dreams and all that might have been. I love you all and miss you so, And I'll always be nearby. My body's gone forever, But my spirit will never die. And so, you must all go on now, And live, and understand... God did not take me from you, He only took my hand." -Author UnknownE YOU SIS!!!!!!!!
This is for megan's sweet 16th birthday party but she also wanted to share christina's birthday with her special day.
Bella getting ready to release her balloon so her mommy can catch it in heaven.
Megan waiting to release her balloon for christina.
Megan, Zachary and Kaitlyn
Megan, Zachary and Kaitlyn missing chrisitna on her birthday. WE LOVE YOU SIS and WISHING YOU WERE HERE. FOREVER 21
DAWN, DEWEY AND SARA AT OUR BALLOON RELEASE, MISSING YOU AND LOVE YOU AND AN BALLOON WAS RELEASED FOR MARY SEEING SHE COULD NOT GET THERE.
PINK ROSES FOR YOUR BIRTHDAY AND HOPING YOU ARE HOLDING YOUR FLOWERS IN HEAVEN WE LOVE YOU MORE THAN WORDS CAN SAY. FOREVER IN OUR HEARTS LOVE DAD AND MOM
IN HONOR OF YOUR BIRTHDAY WE RELEASED OUR BALLOONS SO I AM HOPING YOU DID CATCH A FEW UP IN HEAVEN AND WE HAD SOME BIRTHDAY CAKE FOR YOU TOO.
WATCHING OUR BALLOONS REACHING HEAVEN.
WATCHING THE LAST OF OUR BALLOONS GOING TO HEAVEN AND I DO BELIEVE YOU DID CATCH A FEW AND SHARED THEM WITH ALL YOUR NEW FRIENDS IN HEAVEN.
Happy 23 rd Birthday Christina.
There isnt one day that goes by that we dont miss you.
We love you.
We visited you today as we celebrated your birthday today and brought you roses and lillies
Kaitlyn getting her balloon ready for you

sending her special message to you
she loves you so much and misses her sissy no words can express
Zachary preparing his special message to you
He misses you and loves you very much
And off they go,
Happy Birthday Christina
Balloon Release June 2008